Dubai Coach Hire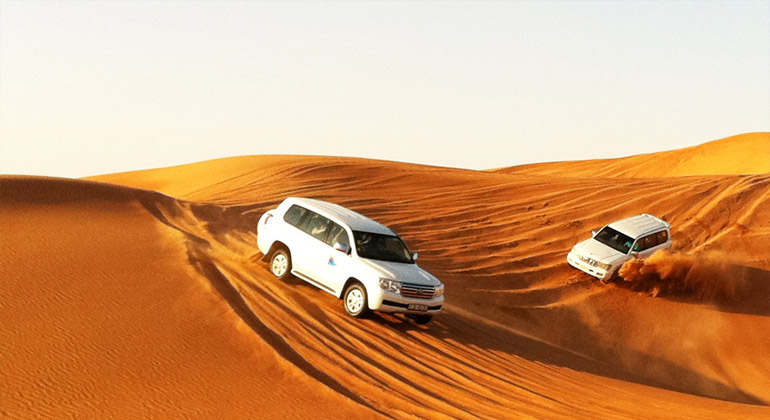 Desert Safari – Rent A Minibus & Explore The Desert Dunes
News,
Dubai Coach Hire
Written by Dubai Coach Hire 1 year ago. Posted in News category.
---
The alluring golden sands when the sun goes down are magnificent. A Desert Safari is an experience of varieties of dessert activities filled with adventure and fun. Desert Safari personifies the warmth of authentic Arabian style .The Safari organizers provide a pick up from the hotel straight to the traditional Bedouin camp. On arrival at the desert, your proficient driver will take you to the sands and ride over the dunes for a thrilling & bold 4x4 experience. The rough and exciting bashing of dunes is completely adventurous and thrilling. Sand boarding amidst the dunes is audacious experience too. Post the rides you can have beautiful camel rides and enjoy the speedy mountain bikes. After the rides as the sun goes down there's a perfect traditional Arabian sitting to enjoy the dance shows like belly dancing and tanoura dance performed on the traditional melodies of Middle East. Belly dance from the origins of Middle east folk dance is an artistic dance performance which accentuate the complex movements of the torso. Tanoura dance is an Egyptian Folk dance usually performed by the Sufi men by spinning the body in circle repetitively. The dance is usually a way of meditation more like a worshiping ceremony. Multi colored Skirt with small little lights is worn by the man performing this dance which feels like a gathering of fireflies in the moonlight. There are also arrangements made for unlimited Savory Shisha for the shisha lovers and Henna designing for the beautiful ladies. Capture the gorgeous and divine candid moments of yourself in traditional Arabic outfits available for photography. You can also have the exclusive clicks with the beautiful eagle sitting on your hand. While you are relaxing under the sky on the starry night you are served with delicious buffet dinner including both vegetarian & Non Vegetarian with unlimited soft drinks. The delicious BBQ served is mouthwatering. To close the day enticing desserts are served along with fruits for the guests. Arrangements are made to drop off the guests back to their hotel safe & sound.

Come see the beautiful ball of fire going down with us at the Desert Safari at exciting offers!!