Dubai Coach Hire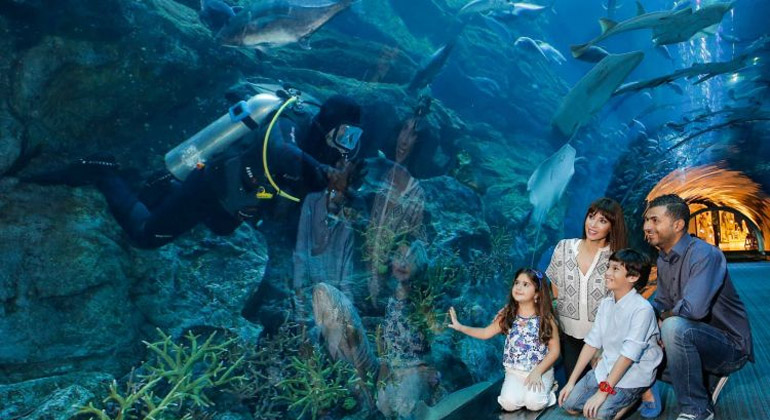 Dubai Aquarium – Bus Tours & Coach Hire Tours Offered To The Aquarium
News,
Dubai Coach Hire
Written by Dubai Coach Hire 1 year ago. Posted in News category.
---
The Underwater world at Dubai Aquarium is a home for thousands of Aquatic Animals with over 140 Species. Located on the ground level of Dubai Mall, it is one of the largest 10 Million Litre water drooping aquariums in the world. The huge water aquarium surging to the third level of Dubai Mall can be experienced in different ways. Tunnel Walk: Imagine taking a stroll through a 48-Metre long tunnel quiet and peaceful like in deep blue waters. It's a glorious experience gazing at the huge sea animals like stingrays and sand tiger sharks swimming up above. The tunnel caters a 270 degree view from 11 Meters below the tanks surface. Boat Ride: Dream of going on a glass boat ride inside the Aquarium and having a bird's eye view of the aquatic animals swimming around. You just need to relax and keep following the tour guide.

Requirements: Rides available after every 10-20mins

Minimum age 5 years and above

Pregnant Visitors not allowed.

Shark Scooter: One more exciting underwater experience at Dubai Aquarium is the Shark Scooter. This little scooter takes you into the deep blue surface of the aquarium to reveal the secrets of the underwater world.

Requirements: Up to 2 people can ride on one scooter.

Not allowed for Pregnant Visitors

Should be 10 years of age and above

Only available at 5.00PM, 6.00PM & 7.00PM

Shark Dive: Imagined of an adventure like jumping into a super huge tank of water with thousands of sea animals swimming around? You can have this thrilling experience at the Dubai Aquarium in Dubai mall with the Shark Dive.

Requirements: A diver must be 10 years and above.

Not allowed for Pregnant Guests.

Cage Snorkeling:

Fancy yourselves taking a dip into the deep blue waters amongst the sharks and other water species. All you need to do is wear on the snorkeling gear follow the instructions of the instructor and dive onto the safe and secure cage inside the aquarium.

Requirements: Minimum age 8 years and above.

Pregnant Visitors not allowed.

Min 4 people can have this experience at one time.

Come dive with us and experience the underwater world at best offers!