Dubai Coach Hire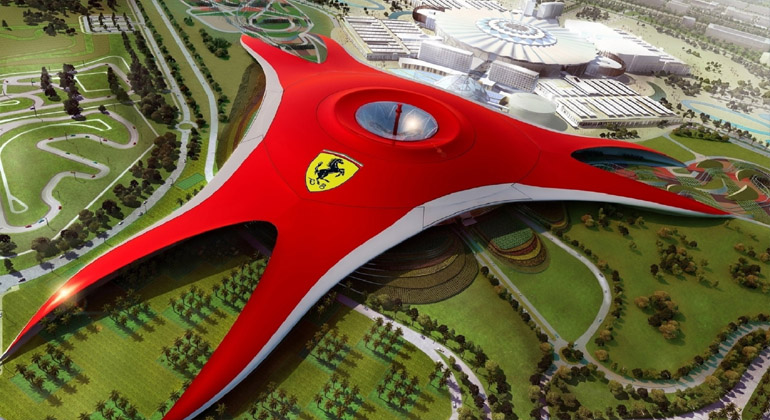 Ferrari World: (360) – Bus Rentals Available Going Too Abu Dhabi's Main Attraction
News,
Dubai Coach Hire
Written by Dubai Coach Hire 1 year ago. Posted in News category.
---
The first Ferrari inspired amusement park on Yas Island in Abu Dhabi is a nest to speed devotees and lovers. Great adrenaline rides and the world's fastest rollercoaster with highest coil, Formula Rossa, Live shows, go-karts powered by electricity and magnificent attractions lie underneath the mammoth red roof. Ferrari World is complete mixture of amusement and adventure at the same time. Ferrari World is not at all a seasonal spot but open for all 365 days for the visitors to have the best and mesmerizing experience of speed and art. One of the newly released ride is Turbo Track that leaves you with a pounding heart. A ride with a vertical climb and an epic zero gravity fall.

• Height: 1.3 – 1.96m

• Track goes up to 60m above ground level

• Maximum speed of 102km/h

• Two zero gravity experiences

You can find variety of rides to suit Ferrari World to suit the different age group of visitors. Roller Coasters like Fiorano GT Challenge, Formula Rossa the fastest roller coaster, Mission Ferrari, Flying Aces having world's tallest loop that does not turn upside down, Turbo Track ETC. The Thrilling Rides like Karting Academy, Scuderia Challenge, V12 Enter the Engine and of course the Family Rides like Tyre Twist, Galleria Ferrari, Driving with the champion, Speed of magic, Viaggo in Italia, Driving Experience, Fast Lane, Bell'talia. Ferrari World also offers Children rides specially designed for kids entertainment and amusement like Junior GT, Junior GP, Khalil's Car Wash, Junior Training Camp, Benno's Great Race ETC. Too much with the rides and amusement not to forget the incredible authentic Italian Dining options with 5 in-house restaurants available at Ferrari World. Ristorante Cavallino all the way from Italy, Il Podio serving Arabic & Asian Cuisines, Mamma Rosella an open air restaurant serving the Neapolitan Pizza , Rosticceria Modena known for its fast food and last but not the least Espresso Rosso an Italian cafe for bites and Espresso Drinks.

Opening Hours: Daily 11.00Am to 8.00PM

Location: Yas Island, Abu Dhabi

Free Entry for Kids up to 3 years old.

Experience your first adrenaline ride at Ferrari world at best offers!!